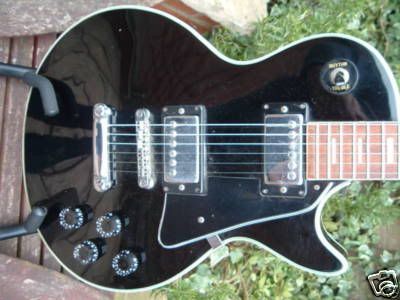 EROS - Les Paul copy - where were they made,and who by ?????
Hi all.
I need some help, I hope someone can shed some light on this EROS Guitar
I have heard conflicting things, I read that Eros was part of Eko, or people who worked for eko who made guitars from 68-72
I read that actually it had nothing to do with the Italians and was a name used by an importer of Japanese guitars, possible made in the matsumoku factory.
I read that it is mentioned in the Blue Book as a Japanese brand.
But EROS was also a sub brand of EKO guitars in Recanati, Italy
So could anyone help me more, and is it worth more than say ?100 pounds.
Thanks
Pete.
I am new to all these Japanese guitars by the way, but I am falling in love with them, the build quality is high, and the Tokai`s and Arias and Grecos are really nice guitars.
any help would be brilliant
Heres the harmony central reviews, there are some for it in the jumbo section oddly, it seems they are well thought of by the owners.
http://reviews.harmony-central.com/revi ... brand/Eros
[/img]
I just stumbled over this interview with polly talking about having an EROS with all the strings tuned to A
POLLY: John's Telecaster is closer to my heart. It's on all my records - I used to nick it all the time. And don't forget my Eros Mark II (a funky Gibson SG copy). It was my first guitar. My dad bought it for 50 pounds from a guy who worked for him in the quarry because he though I might want to play it one day. He still calls it "his guitar." I tune all the strings to A. On my last tour my guitar roadie was talking about Gary Glitter, who he'd worked with. He said the Gary Glitter Band tuning was all strings to A, so I tried it out.
JOE: And I adopted that tuning for "Down By The Water," "C'mon Billy," and most of the really heavy songs. It's a brilliant song.
POLLY: Yeah, so fat and revolting. I just love the way the bottom string is tuned so low it flops like a washing line. I wrote "Long Time Coming" and "He's Just My Type" on it, but I don't want to go too much into the way I write because it spoils it for me. I don't want to sound too much like a hippie, but writing is a very spiritual thing, and talking about it can be disrespectful - not to me, but to the "writing muse," or whatever you want to call it. I can't see it as a technical process, a song either touches you or it doesn't. Everything we've talked about - guitar tones, putting it through little boxes - is just superfluous, and I don't like dwelling on it. At the end of the day, it means nothing.