Fender32 wrote:

funkpower wrote:Beautiful basses!!! Congratulations! Red one is great!
I have exactly the same Tokai like your first - cream-one. Also without L - letter on a neckplate. It's also very lightweight. It's sound so good!! I had a problem with pickups, but now everything is ok. I had to change polarisation in one of them, and now there is no hum!
I'm looking for a pickguard - can you tell me - can I replace it with mass Fender pickguard?
Best.
W

Hi there Wojtek

!

I'm glad that you got your pickups sorted out in the end. My white bass is also the lightest of them all (only 8.1lbs, with strings and without strap) and to be honest, it does have the sweetest tone too, by a tiny fraction

.

Funnily enough, I just ordered a Fender USA replacement pickguard (in tortoiseshell) for the black Jazz Sound. It's the 'vintage' model pickguard, with 11 holes, which Fender fit to their US Vintage Reissue basses. It should arrive tomorrow, so I'll let you know how it fits. I have tried four different types of replacement p/g from non-Fender manufacturers and none of them would fit properly, so I hope that this Fender one will (as it's very expensive

).

I agree with your comment about the red bass - it

is

great

! The condition is amazing, for a 25 year old bass. It has some fret wear, but it's obviously been well cared for. I was suprised that it weighed a whole 1lb more than the white one, but it does have a little more 'attack' as a result and so it works well with the s/s strings for slap'n'pluck (not really my strong point though

).

Perhaps you could post some pics of your white bass in this thread, funkpower, as I'd really like to see it

...

http://www.tokaiforum.com/viewtopic.php?t=15014
So, my
Fender USA '62 Vintage Reissue
, 11-hole, tortoiseshell p/g arrived in the post today and guess what? ... IT FITS
!!!
I just had to widen about four of the screw holes and twist the control plate around a bit (drilling another hole for the rear screw and widening one of the front screw holes) to make it all line up perfectly.
This p/g is by far the closest fit that I've found so far, after trying all kinds of other off-brand models. It cost nearly ?40, but as it's given this bass exactly the look that I wanted for it (and as black 'n' tort is one of my fave colourschemes anyway), I'm not sorry
.
Here it is ...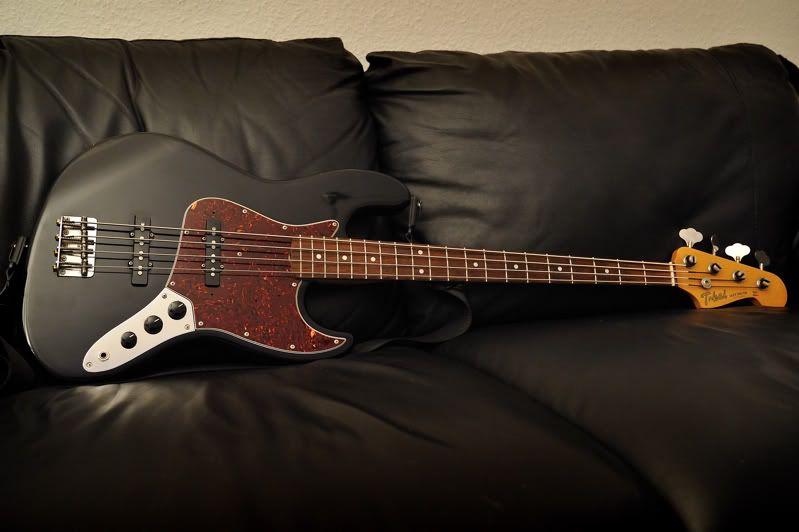 Now I have to update all of my 'Tokai Family' photos again
...