On 1st June 2016 a dream that started over 30 years ago was fulfilled. I visited the Tokai guitar factory! It is a weird feeling of satisfaction with a tinge of frustration that I couldn't have spent more time asking more interesting questions rather than saying Oh Wow every 5 minutes. It was a bit overwhelming!
So the story starts when I saved up to buy my first guitar (repeated elsewhere on these hallowed web pages). I am a big fan of Bernie Torme and so a white strat was my dream guitar so armed with a budget of £200 I set off to Glasgow to see what I could buy. Now this was 1983 and Fender had just released the Squier Popular over here, large 70s headstock, maple neck for £189. I was not so clued up that I really wanted a rosewood 60's design. Anyway, long story short, my mate and I shuttled between 2 main shops to see if there was a price difference. It was then I saw the candy apple red Tokai strat, rosewood neck, 60's headstock for £199. At that point an image was burnt on my brain that these were things of great beauty.
So decision time and I chose to save £10 and get an Olympic white Squier as it had a Fender logo on the headstock. Lovely guitar that I still wish I had to this day but I probably would have got a tweed hard case with the Tokai (I never asked). A few years later, a gut from one of those shops sold me his Tokai with hard case for a cool price and I sold on my Squier and a love. Affair started from there.
Fast forward a few years and as my wife and I approached 50 we decided that we should go to Japan as a treat as we had always wanted to visit and I could hopefully tick a Tokai visit off my bucket list. I had read a great article from a chap who had visited so I emailed him to ask how he arranged it. So a few months before departing I emailed Tokai and got a response directly from President Shohei Adashi giving me the green light.
So packed with a spare copy of my Tokai book (see link in my signature) we set off on the 13.5 hour flight via Zurich. I can't do Japan justice in this write up but you know you are in a different world when the wheels of your plane touch the ground at 7:30am and you have taxied to the terminal cleared passport control, picked up your bags, gone through customs paper check, find the transfer bus to the hotel, pay for it and are on your way at 8:11am! Not only that, but the ticket lady and baggage man bowed as the bus left.
That afternoon we went to pick up our Japan Rail passes (cheapest way to get about if you are making a few long journeys and lots of little ones in Tokyo) then booked our trips to Kyoto and mine to Hamamatsu which was really easy ensuring that we were on the right hand side of the train on the way there to see Mt. Fuji san!
So, on the appointed day I made my way to Shinagawa station, one of the main stations in Tokyo, to catch the Shinkansen (bullet train) to Hamamatsu. The 1.5 hour journey over 200 miles with four stops (average speed of 133mph!) The countryside flashes past heading to the coast so I use slo-mo on the iPhone to capture the view. The refreshment trolley ladies and ticket inspectors all bow as they leave the carriage.
A 15 minute taxi ride to the factory (aided by Japanese instructions from my host) and I arrive as the guys are taking a cigarette break (lots of people smoke in Japan, I didn't see anyone vape whilst out there which was weird for such a health conscious people)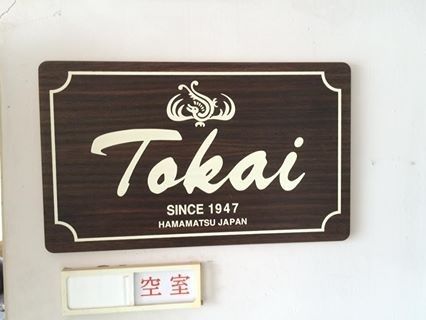 I was shown upstairs to a reception room with a large portrait on one wall which turned out to be Mr Adachi san's grandfather who founded Tokai Gakki (Tokai is East Sea in Japanese) and they made harmonicas and accordions.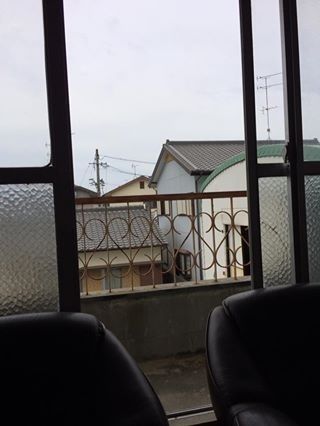 (view from the factory reception in a quiet residential area, with an original mini car parked opposite  )
Mr Adachi gave me his card and I thanked him for taking the time to show me around. I then presented him with the Tokai strat book and he was a little taken aback as I described the process of making it based on the get together in Leeds. He was amazed at the group photo and described it as 'a treasure'. I asked him to sign mine and I signed his copy. We spent some time going through the original Tokai catalogues from Vol 1 onwards. I admired one page on the 1985 version that I didn't recall seeing before featuring a pink Kramer look-a-like. At that Mr Adachi left the room and came back with a pristine copy of it as a gift (Stevie Ray Vaughan on the cover).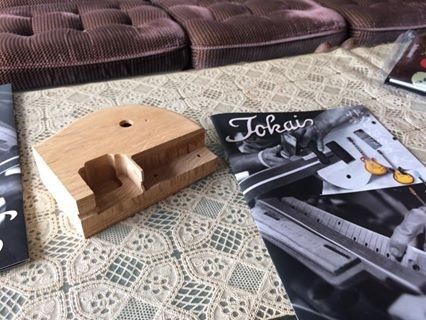 We also discussed the resonant sandwich design that Tokai were using on some Les Pauls and I asked if they has tried it on a strat body:
(some famous people play guitars just like these, allegedly)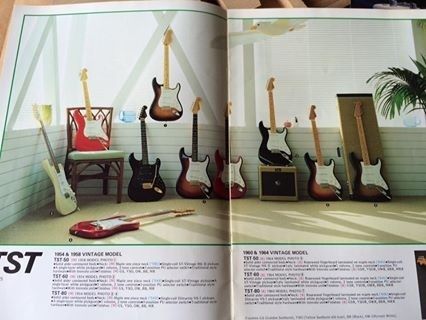 (the picture that launched a thousand dreams)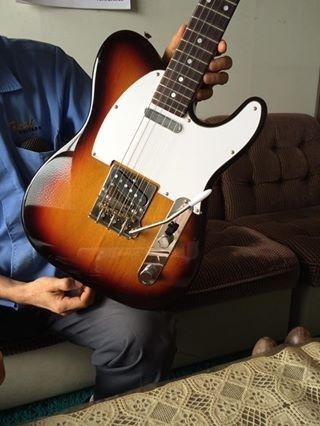 Mr Adachi also showed me a new prototype tele with a knife edge Wilkinson trem. I suggested putting that tele hardware on a strat body too.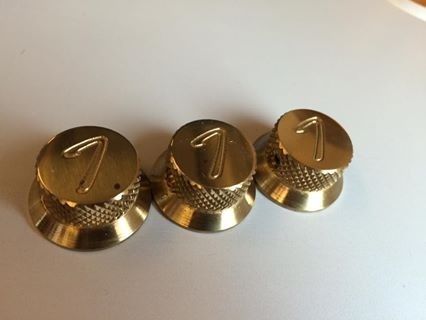 At that point we went on a tour of the 3 story building which used to be used as a dormitory building for the original factory. The tour included all the stages of production through to the warehouse and then up to the sample room where I had a play of a Talbo and a few other goodies. It's best I let the photos do the talking.
(drool)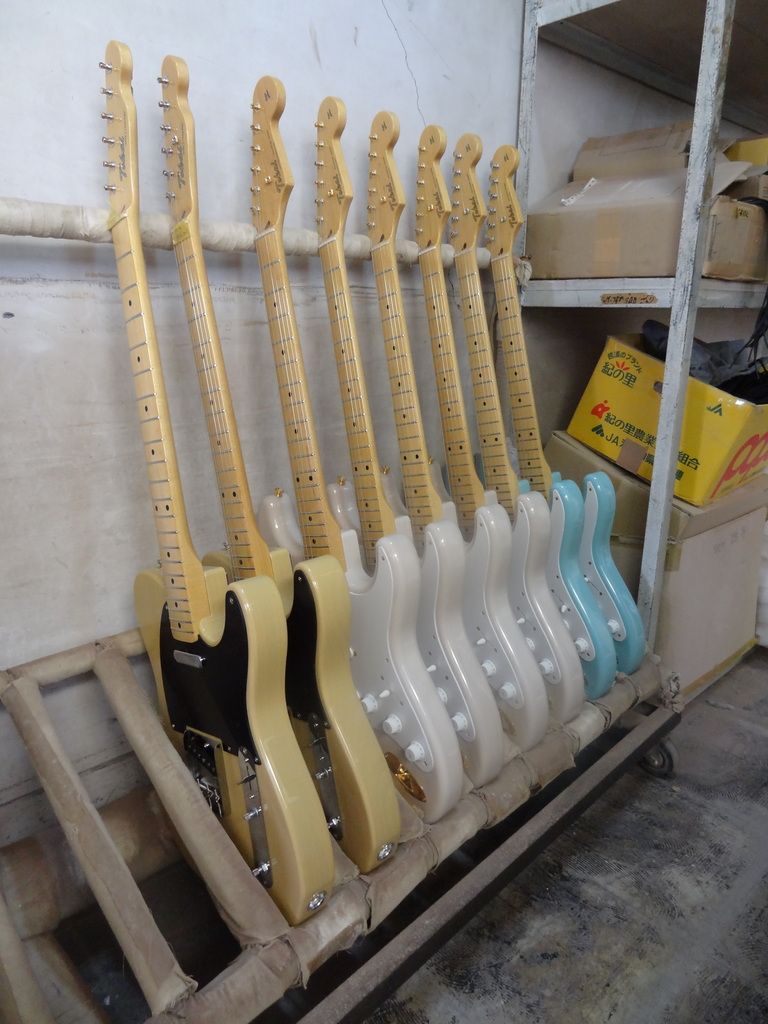 Even more drool!
Artists at work
Beautiful blue flower tele
This photo does not do justice to the pinkness of this lovely Paisley finish, I want one!
A stack of Talbos
The warehouse of dreams!
These are off to France (anyone we know )
In the testing room
A tele resonator type design, very intricate.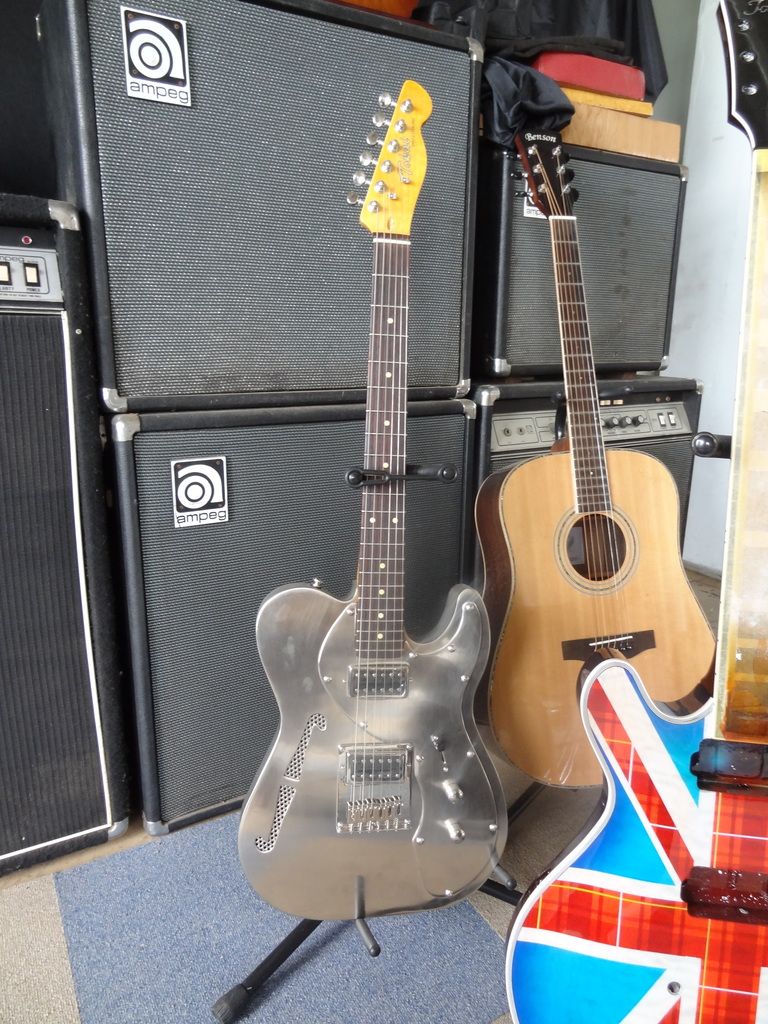 The (in)famous union jack design, as seen at recent guitar fairs. Even with the tartan in it I'm sorry but I'm not a big fan.
So, when my drool glands could produce no more, it was time to go.
Mr Shohei Adachi, President of Tokai Gakki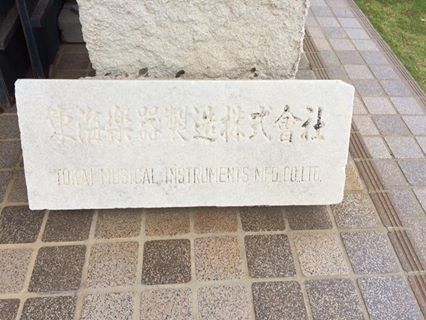 The sign from the original factory
A Hamamatsu station there is a display by the other small instrument manufacturer in the city, Yamaha
I have kept in touch by email and suggested that if Mr Adachi ever comes over to the UK for a holiday that he may consider coming to a future Tokai convention and do a Q&A session for us. Who knows?
A collection of mementoes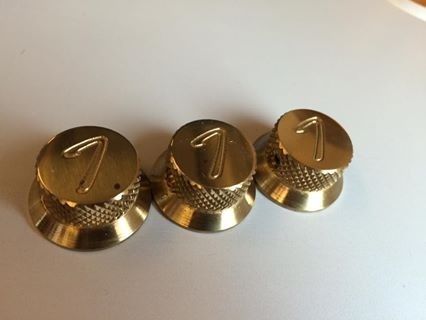 A photo in case the Les Paul fans get upset
A really nice gentleman and a great few hours trying to take it all in! Check out my separate thread on guitar shopping in Tokyo.
Final word to Mt. Fuji san of beautiful Japan. You must visit as I cannot do it justice with my descriptions!